« Back to News & Notices
March 28 UPDATE - Planning for a New Water Reclamation Facility / March 27 Public Information Meeting
March 28 UPDATE - Last night's meeting was well attended. Here is a link to the "Handout" and the "Presentation" from the public information meeting. Here are the Minutes from the meeting.
--------------------------------------------------
The Four Corners Water and Sewer District is planning for a New Water Reclamation Facility which will be located southwest of the intersection of Huffine Lane and U.S. 191. The new facility will provide much-needed capacity to treat wastewater generated by homes and businesses in the growing Four Corners area.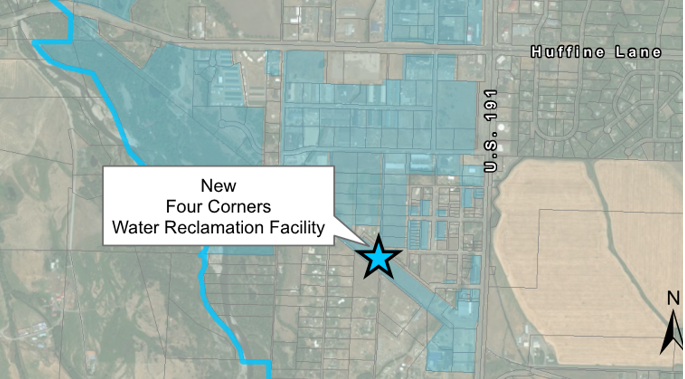 Why is the District building a new Water Reclamation Facility?
Four Corners is a rapidly growing area. With this growth comes the necessity to expand the District's sewer treatment facilities.
Does the District have a long-term plan for handling growth in the Four Corners area?
Yes, the new Water Reclamation Facility will be designed so that it can be incrementally expanded in phases as warranted by future growth.
How much will the new Water Reclamation Facility cost and how will the project be funded?
The District has budgeted $8.2 million dollars for the design and construction of the first phase of the project. The District is considering using a combination existing reserves and low-interest loans to fund the project.
When will the project be built?
It is planned to begin construction in early 2019 and start-up the facility in early 2020.
How can you learn more about the project?
We are holding a special public information meeting / Q&A session on Tuesday, March 27, 2018, at 6:30 p.m. in the Cafeteria of Monforton School, 6001 Monforton School Road in Bozeman. You are welcome to attend this meeting to learn more about the "New Water Reclamation Facility" project.